The biggest international container Shipping Company in China - COSCO Shipping
The Biggest International Container Shipping Company In China - COSCO Shipping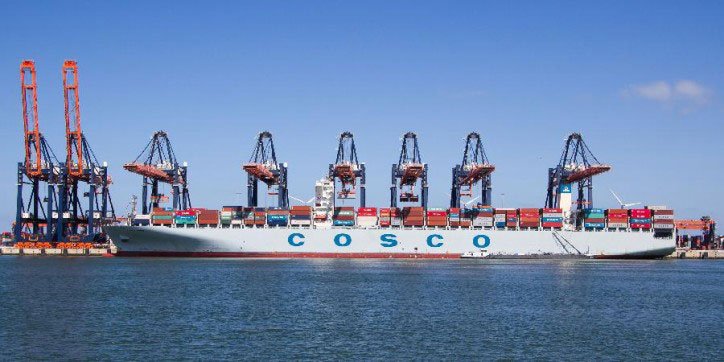 China Ocean Shipping Company or simple COSCO is a container shipping company working on both domestic and international level. The company is the predecessor of former COSCO container lines which was established on 11 Nov 1997. By the end of February 2019, the ship has a total of 311 self-owned container ships. The total carrying capacity of these ships combined is 1.64 million TEUs. The company provides quality services to both domestic and international level. And due to that is has been ranked as number 4 in the world of logistics for a scale of container fleet. The company has successfully managed to create its marketing and service network with 154 branch offices domestically and 69 offices internationally. COSCO shipping company currently operates in 332 international and domestic shipping routes. And covers 254 ports in 79 countries and regions of the world. The secret of success of this logistic giant is because it sticks to its corporate culture. Which is "one team, one culture, one target and one dream"
What services we can provide by COSCO Shipping
As one of the COSCO shipping freight forwarder in China, we provide professional international container shipping services from all ports of China.
Sea Freight: 20FT, 40FT, 40HC, 45HC, OT, OP
Booking: use your COSCO contract number booking containers from all local COSCO shipping branches.
Handle: Handle the COSCO container
Documents: Ready and confirm cargo, container information update to COSCO on time.
container loading: pick up container by trailer, container loading in factory and back to the seaport.
COSCO Container Shipping Services
The COSCO shipping company provides various services. Some main services are ship leasing, ship trading, business import and export, supplies of ship materials, vessel parts, fuels, cargo and technology import & export business, e-commerce and business consultation. But, the main focus of COSCO is on container shipping. The ship provides all types of container shipping like Reefer container, open top container, flat rack container or dry container. The company provides container shipping services on both domestic and global level. On domestic level, the company provides container shipping services from all ports of China. which encompasses major ports like Dalian, Qingdao, Zhenjiang, Jiangyin, Quanzhou, Xiamen, Shenzhen etc.
COSCO Vessel Schedule
With container shipping, the service of providing the schedule of the vessel carrying containers is necessary. Because all big and small businesses need to know about the departure, stay and the arrival of the vessel for their business purposes. COSCO provides the vessel schedule service through its website where it constantly updates the schedule of the vessel. The website for knowing the vessel schedule is: http://elines.coscoshipping.com/NewEB/informationQueryAndSubscribe.html?node=2003
You can go to this website and click on "schedule by vessel". Then enter your vessel name, provided on the bill of landing and it will tell you the complete schedule of your vessel.
Cosco Container Tracking
The COSCO shipping company majorly focuses on the overall customer satisfaction. To provide the quality customer experience it has also introduced the COSCO Container Tracking service. Because sometimes knowing the schedule is just not enough. Therefore in the extent to the service of Vessel schedule, COSCO also provides its customers the minute by minute container tracking services. The tracking service can be found on the website of COSCO shipping. The link to the website is given below: http://elines.coscoshipping.com/NewEB/informationQueryAndSubscribe.html?node=2002
On this website, you can enter any one of these numbers, the bill of lading number, container number, or the booking number. Once done, select the column of the number you added.
Example: Select container in the column if you have added container number. Once done click on search. The complete details about the container's location will be provided.
COSCO Shipping Branch Offices
Container shipping services is main COSCO shipping services. Their own many subsidiaries or COSCO Container line agencies LTD, in some seaport they work cooperation with international freight forwarder. COSCO shipping Mexico use many local forwarders's servcies.