Sea Freight Local Charges In China
Sea Freight Local Charges In China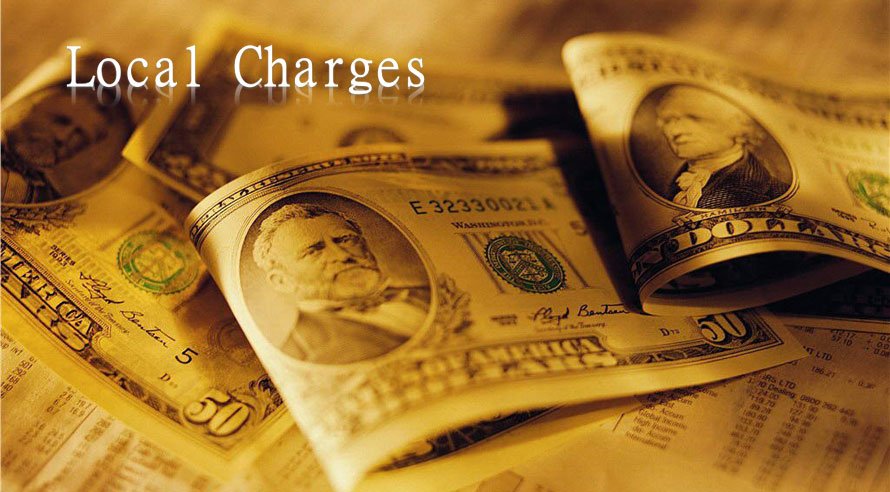 Importing from China use international sea freight services, you must need to know the details of FCL local charges and LCL local charges in different ports of China and from different container shipping companies, freight forwarder. So that you can clear what you need to pay and how much each fee items.
As one of the best international sea freight forwarder in China, we know every well about the local charges. Below are the types of local charges in China.
FCL shipping local charges
FCL shipping local Charges there are three parts: one is from container shipping companies, one is from the port company, the other may be from international freight forwarder.
The local charges are a little different from different province. Shipping to different trading route the local charges are different. In the same one seaport all shipping companies local charges are almost the same. So if you are looking for COSCO shipping local charges in port of Yiantian to the Europe, you just need to refer to "Shenzhen local charges vessel schedule to the Europe is correct. The other container shipping companies are the same.
Full container shipping local charges general include:THC fee, Document charges, EIR fee, ISPS,Telex release, handle charges...
Here you can find the port of loading all from ports of China local charges. The local charges from Port of Discharge / Place of Delivery will be update soon, or you can confirm with your local international freight forwarder.
Class FCL Shipping Local Charges In seaport
Port Of Shenzhen Local Charges

The international container shipping from below ports (NANSHA / Beijiao / Leliu / Rongqi / Foshan New Port / Lanshi / Nanhai(Jiujiang) / Nanhai(Sanshan) / SANSHUI NEW PORT / Gaoming / Nangang / Heshan / Huangpu New Port / Huangpu Old Port / Huangpu(Wuchongkou) / Lianhuashan / Huadu / Jiaoxin / Qingyuan / Humen / Jiangmen(Gaosha) / Jiangmen(Waihai) / Kaiping(Sanbu) / Xinhui / Taishan / Zhaoqing(Gaoyao) / Zhaoqing(Mafang) / Zhaoqing(Sanrong) / Zhaoqing New Port / Yunfu / Zhongshan Sinotrans / Zhongshan INT'L / Xiaolan / Zhuhai(Hongwan) / Zhuhai(Gaolan) / Zhuhai(Xiyu) / Shantou / Zhanjiang / Maoming(Shuidong) / Wuzhou / Beihai / Fangcheng / Qinzhou / Guigang) all need via from Port of Shekou / port of Yiantian. So all these ports local charges are the same.

Port Of Shanghia Local Charges

Shanghai Ningbo Xiamen Fuzhou Qingdao Tianjin Dalian... all ports local charges are the same.

Export Shipping From Ningbo Local Charges
LCL Shipment Local Charges
LCL shipment local charges have two parts: consolidation services warehouse fees, consolidation consolidation freight forwarding fees.
When you have LCL shipment from China, you need to learn that total sea freight rates which you need to pay included local charges in China; LCL sea freight; final destination local charges. For the novice who uses sea freight, they ask a lot of international get different sea freight, maybe he think about get the lowest rates, but actual the freight forwarder didn't tell him need to pay lots of local charges in final destination when he go to pick up the LCL shipment. Some trusted international give you quote true marketing price,but there is less local charges when you pay less.
Class The LCL Shipment Local Charges In seaport
Port Of China Local Charges

ports of the world

singapore